Useful Tip to Manage Your Applications
If you have many certification applications you may find it helpful to export the information into an Excel spreadsheet. After you login as a member, there is a button available on the main page above the grid. Simply click on the button to download all application information to a spreadsheet. This button is also available on the Field Inspection Report (FIR) page so you may view all FIRs in a spreadsheet.

---
Scholarship Awarded to Fresno State Student 

Josue Diaz was born and raised in Santa Maria, CA.  His family immigrated to Santa Maria from Michoacán, Mexico in search of a better life. Through hard work in the agriculture fields they managed to improve their way of living. He is proud of his family for going from pickers to growers and processing plant managers and hopes to follow their example of achieving his goals with hard work and dedication.
  His experience in agriculture started at the young age of 12, when he spent the summer hoeing weeds in his uncle's field. He would then spend every summer after that working for him and each year his responsibilities were increased. He originally attended San Jose State with plans to be an engineer in order to build and improve things but he missed working in agriculture. In a biology class, one of the lectures briefly touched on breeding and his interest was sparked. After meeting one of his uncle's seed suppliers, he knew plant breeding and seed production would allow him to improve crops and perhaps create his own varieties.
  His graduation from Fresno State in Fall 2016 makes  him the first in his family to graduate from college. He plans to continue studying plant breeding in Grad school at UC Davis or Fresno State. The scholarship is a big help in covering school expenses and allowing him to continue working towards his goals.
---
AASCO CCIA Certified Seed Sampler Program

California Crop Improvement Association (CCIA) conducts a Seed Sampler Certification Program under AASCO's (Association of American Seed Control Officials) oversight. The objective of this Program is to ensure that certified seed samplers use methods and equipment that are approved by AOSA (Association of Official Seed Analysts).  Seed sampler training should lead to uniformity in sampling of all certified seed that is produced and used in or derived from our state. More importantly, it should also lead to accurate seed test results and labels that better reflect the quality of seed in warehouses being offered for sale and/or shipment. Therefore, CCIA requires that all seed samples sent to the seed laboratories for certification purposes be sampled by certified samplers.
During 2016 the Program conducted Sampler Training Workshops in Davis, Tulare, Ventura and two Workshops in Oxnard (see photo). The CCIA started training Certified Samplers in 2013. Certification is for a period of 3 years. As a result, certification period expired for our first group of Certified Samplers. Most of these samplers have already been re-certified for the next 3 years. However, some samplers have been assigned other duties within the organizations or have moved to other organizations. The CCIA wishes to request those samplers whose certification expired to contact Alex Mkandawire at CCIA or Carl Pfeiffer at California Department of Food and Agriculture (CDFA) and arrange to attend another AASCO CCIA Sampler Training Workshop soon in order to be re-certified if they wish to continue taking Certification Samples. The CCIA will tentatively conduct Seed Sampler Workshops in Woodland for Sunflower companies on 23 February, 2017; in Davis, CA and in Holtville, CA for Imperial Valley seed samplers on 23 March, 2017.
---
2016 Acreage Report 
Here is the 2016 report for applied and approved acres by crop. More reports available.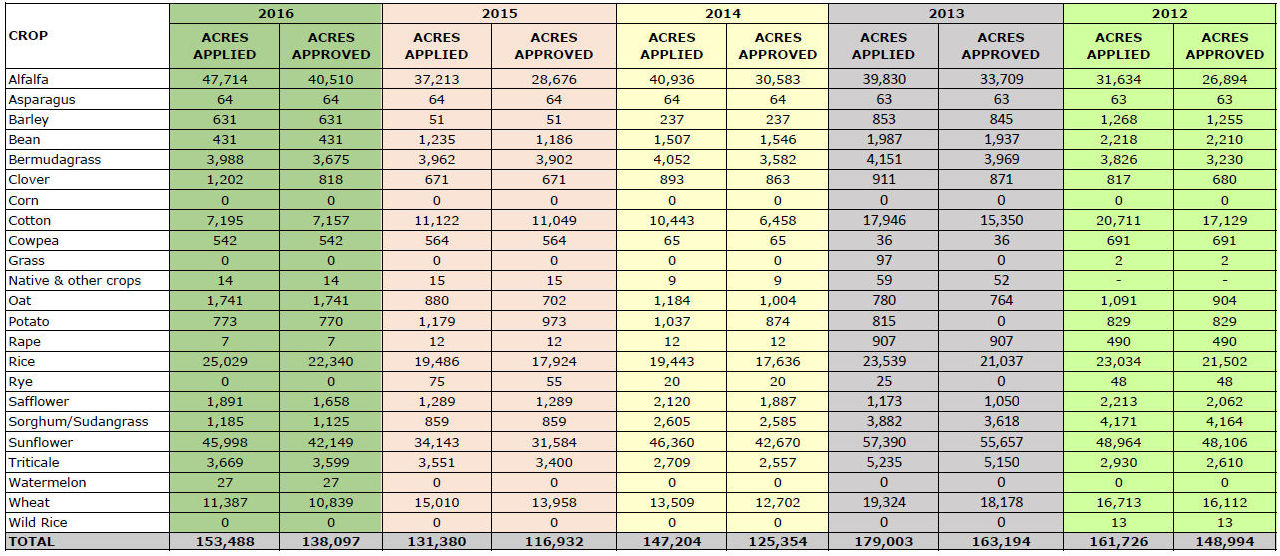 ---
Woodland FFA wins State Championship Agronomy Judging Contest and goes on to compete at Nationals
Contributed by Team Coach Jerry Delsol
  It started in February 2016 at Pierce High School with the Arbuckle field day with a third place finish and ended with a State Championship in San Luis Obispo May 7, 2016. The team logged 1,700 miles, 6 competitions, 1,000 hours and a ton of memories during our judging season which ran February through May.
  During that time our Agronomy team of Kevin Keenan, Gloria Perez, Kelsey Mclagan, and Lyndi Wax memorized 56 of California's grains, legumes, forages and grasses which include the plants and seed. In addition, they had to identify 20 different crop diseases and 72 common, prohibited and restricted weeds. And if that wasn't enough, throw in 20 insects to recognize and categorize them according to their life cycle, economic impact and mouthparts.  The competitions also include 4 judging classes (3 are made up of grain seeds and one 1 of alfalfa hay) that are made up of 4 samples. Students are to judge them according industry standards and then place them from best to worst and present their reasons why they put them in that order. By the time the team had reached the FFA state Finals in San Luis Obispo (SLO) the team had judged 100 different grain and hay samples in the 2016 season. At the end of the competition in SLO Kelsey McLagan finished third in the state and the team was the 2016 FFA State Champions. Which meant the team would represent California in Indianapolis, Indiana at the FFA National Agronomy Finals.
*file254513*  The team of  left Woodland and headed to Indianapolis to compete at National convention for FFA. Upon arrival the team spent the first day at the University of Kentucky and talked with Dr. Chad Lee who helped us with our judging and identification skills.
  The contest at Nationals is extremely different than the California's contest; it encompasses the following:
TEAM ACTIVITY: The team will be provided with a scenario of an agronomic situation and will be asked to develop a management plan in 70 minutes. Teamwork will be assessed during the management plan development time. The team will be required to develop both an oral presentation and a written plan that addresses the question in the scenario. The team will submit their written plan at the end of their oral presentation.
GENERAL KNOWLEDGE EXAMINATION: Fifty objective multiple choice questions will be given to each participant. Questions may include, but are not limited to, the following areas: general agronomy questions, plant and soils science, cost sheets, seed tag information, tillage practices, pesticide labels, extension bulletins, fertility reports, tissue analysis, contract information, water management, seeding rates, variety information, trial data and application/calibration information for nozzle selection, chemigation, fertigation and aerial application.
IDENTIFICATION: Students will identify 50 weed and/or crop plants and/or seeds. Plants may be presented in any stage of growth following emergence. The list of possible specimens is in the reference section of the handbook.
SOILS: Identify various soil structures: web soil survey, custom soil resource report, soil maps. Analyze web soil survey data and answer questions related to: relative drainage (e.g., poor, moderate, well), topographic position (e.g., summit, slope, depression), depth to water table, frost free period, Identify the USDA land capability classes and answer problem solving questions related to various classes. Use soil survey to locate specific sites, use of suggested soil spots and questions related to the soil survey map.

After two days of competition a luncheon was provided for the coaches and teams where the results were revealed.  The Woodland High school FFA agronomy team placed 12th out of 40 teams, which means they placed in the top 30% of the nation. Kevin Keenan, Kelsey Mclagan, and Lyndi Wax received a gold medal for being in the top 35 high school agronomist in the United States. Also Gloria Perez received a silver medal for being 30% place. The Agronomy team received a gold medal as a team.
  To prepare for the competition students practiced throughout the summer visiting the USDA grain grading stations in West Sacramento and Tule Lake. So many individuals and businesses spent time helping prepare the team for the arduous competition.  Blake Harlan, local farmer, shared his expertise on hay, Phil Hogan, NRCS, navigated the team through online soil survey maps, Jean Shepard, UCD herbarium, prepared weed identification practices, and Jim Rumsey met with the team twice a week for the entire summer preparing them for the team event.  In addition, the team spent two days in Tule Lake with Tim Brown (ag teacher) learning how to be potato farmers in preparation for the contest. Without the generous donations for the team none of this would have happened; big thanks for our amazing community: Sunset Lions, Woodland FFA Boosters, Agriform, Pioneer Seed Co., TS&L Seed Co., California Association of Pest Control Advisors, Maile Reardon, Anna Young, Noreen Chase and Ernie Roncoroni Sr.