Research grants awarded
Research fees are collected for alfalfa, beans, cotton, and small grains grown for certification. These fees are collected and awarded each year to principal investigators who conduct valuable research on these crops. Below are the recipients selected by the Board of Directors to receive research funds for 2015-16:
Alfalfa
$27,490 - Dr. Dan Putnam continued research of "Alfalfa experimental variety and germplasm adaptation and evaluation".
$27,490 - Dr. E. Charles Brummer continued research of "Developing new alfalfa cultivars for California".
Bean
$11,335 - Dr. Paul Gepts for continued research of "Development of a high-density genetic map to facilitate transfer of Lygus and nematode resistance among Lima bean varieties".
Small Grain Research


$60,000 - Dr. Jorge Dubcovsky for continued research of "Evaluation of small grains in California".
$90,000 - Dr. Jorge Dubcovsky for continued research of "Development of wheat varieties for California".
$10,000 - Dr. Isabel Alicia del Blanco for continued research of "Oat improvement in California".
$18,306 - Dr. Isabel Alicia del Blanco for continued research of "Breeding malting barley for California".
Cotton
The California Cotton Growers Association received $133,246 which will be used to fund:
Dr. Robert Hutmacher - "Evaluation of Pima, Acala and non-approved Upland varieties"
Dr. MacMillan - "Fusarium Nursery Plot Contract"
Dr. Robert Hutmacher - "Fusarium resistant germplasm development: identifying and development of germplasm and potential breeding lines with improved FOV resistance"
Dr. V.M. Barlow - "Brown stink bug management in cotton to minimize brown stink bug movement in cotton plantings"
---
Update your company profile
Just a reminder to update your company profile in order to keep it current with the proper employee names and access. If an employee has left your company and is still listed with permissions they will be able to access your applications and certifications.
In order to update the company profile, go to the "Update Company Profile" web page. You must login with the company ID number and a unique password. If you need help with this procedure, please call the CCIA office at 530-752-0544.
---
Change in research fees
The CCIA collects research fees on pounds of seed certified for certain crops. The Board of Directors allocate the funds collected to research projects that benefit these crops. At the June Board of Directors meeting, the Board voted to adjust the research fees as listed below.
Alfalfa - increase from $0.25 to $0.35/cwt
Beans - increase from $0.20 to $0.40/cwt
Cotton - no change; remains at $4.00/cwt
Small grains - no change; remains at $0.30/cwt (barley, oats, triticale, wheat)
---
Seed sampler training program
The CCIA-AASCO (Association of American Seed Control Officials) Seed Sampler Training Program just entered its third year of existence. The CCIA is pleased to announce that it will conduct three seed sampler training workshops this year. They will be held in the Sacramento Valley, San Joaquin Valley and Imperial Valley between November and December 2015. The dates and venues will be communicated later. The sampler certification is valid for three years. We wish to encourage agricultural commissioners and seed conditioners to nominate possible sampler candidates to be included in the upcoming workshops and submit their names to one of  the following contacts:
* Alex Mkandawire, CCIA, AASCO Accredited Seed Sampler Trainer,
Phone:  530-752-6868
Email: abmkandawire@ucdavis.edu
* John Heaton, Past President of AASCO and Chair, Seed Inspector and Training Qualifications Committee, CDFA Seed Services Program
Phone: 916-403-6715
Email: john.heaton@cdfa.ca.gov
---
Change to cotton standards
The CCIA staff has worked with the cotton industry to revise the cotton standards to try and assist in controlling the spread of FOV4. The standards changes pertain to resistant/tolerant varieties only. There is no change to the standards for susceptible cotton varieties. Please check the Cotton Standards page on the CCIA web site for the updated standards and to view a list of resistant/tolerant and susceptible varieties.
---
Certification training meeting
The CCIA conducted a Certification Training Meeting in the Imperial Valley with Director of District 1 Bill Suits, John Palmer, Bob Stewart, Ashley Koala and Nicole Hostert. If you would like to schedule a meeting in your area, please contact John Palmer at 530-752-9824 or  jcpalmer@ucdavis.edu.
---
Grey tag fees
Effective January 1, 2016 a fee of $1.25/cwt will be implemented for all "Not Finally Certified" seed lots which receive grey colored OECD tags.
---
New tag request procedure
COMING SOON!! The online procedure for tag requests will be improved. When the user requests tags and enters the Seed ID, the computer will be able to fill in all the required information for tracking this seed - variety, certification number, lot number, etc. The program will also keep track of the weight of seed that has been tagged and how many tags have been requested. We hope to have this new program available by late summer.
---
Scholarships
UC Davis - Kelsey Brewer

Kelsy studied a diverse range of disciplines in community college before deciding on the field of Plant Sciences. He has gained extensive experience working for various farms in Yolo County. He managed Feeding Cranes Farms for over a year and is currently managing the UC Davis Student Farm. He is also an intern in the lab of Dr. Kent Bradford at the Seed Biotechnology Center.
Cal Poly Pomona - Lucia Selatti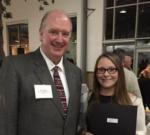 After coming to Cal Poly, Lucia beginning exploring plant science as a career opportunity, and was pleasantly surprised to find the diversity in its applications. Plant pathology, breeding, and genetics have captured her attention the most. Her short-term goals include gathering laboratory experience, graduating with a degree in plant science (spring 2016), and continuing on to graduate school to attain a masters in plant breeding. Her long term goals include working in a plant breeding lab, obtaining a PhD in plant breeding, acquiring a Pest Control Advisor license, and make a significant contribution to the work that is plant breeding.
Chico State - Alfred Mousalli
Alfred is very grateful to receive this scholarship.  He graduated in May with a degree in agriculture with an option in crops, horticulture, and land resource management.  The first-generation American is the son of a family who immigrated from the Middle East to escape persecution, so his graduation is a real success story.  Alfred is from Anaheim and is currently looking for a job as a farm manager in Southern California.  His long-term goal is to attend graduate school and go into plant genetics. 
Cal Poly San Luis Obispo - no applicants this year.
Fresno State scholarship will be awarded in the fall.