Annual member's meeting
All members are invited to attend the annual CCIA member's meeting on May 26, 2011 at 9:00 am. The meeting will be held in the Prato Room of the Parsons Seed Certification Center on the UC Davis campus. Directions to the site are available on the CCIA website; parking permits must be purchased in the parking lot for $6. Director elections for the odd-numbered districts are currently underway and the newly elected directors will be seated at this meeting. In order to be sure there are seats for all attending, if you plan to attend, please contact Kitty Schlosser by email at meschlosser@ucdavis.edu or phone 530-752-6979. There is no registration fee; travel and lodging expenses are the responsibility of the member.
---
New director
The CCIA would like to thank John Palmer for his years of service representing the California Seed Association on the Board of Directors; we now welcome Ken Scarlett as the new representative. Ken, current president of CSA, is also president of Eureka Seeds which produces hybrid corn, hybrid sorghum, alfalfa, and hybrid sunflower seed.
---
Membership
Any person who grows certified seed in California, or any person who has an interest in California seed certification may apply for regular membership in the Association. Regular members are allowed to vote for their district representative on the CCIA Board of Directors and to serve as district directors or directors-at-large on the Board. Regular members are also entitled to vote on any future changes to the articles of incorporation and on significant changes to the bylaws. The membership year runs concurrently with the seed application year from October 1 to September 30; membership is renewed annually. There is no fee for membership. You are not required to be a member of the CCIA in order to participate as an applicant and/or grower of certified seed. Membership information.
---
Correction
The August 2010 issue of Seed Notes had an article on the first page titled "Application numbers required for online requests for seed certification". It should have stated: Beginning October 1, 2010 the application number(s) will be required.
---
Scholarships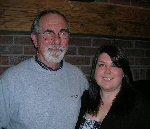 California State University, Chico
Jacqulyn Buffham is a sophomore majoring in agriculture with an option in crops, horticulture, and land resource management. The Susanville native is actively involved in the Crop Science and Horticulture Club, and also serves as a resident advisor in the CSU, Chico residence halls.  She plans to pursue a career in the seed industry or soil conservation. When she is not in class or working, Jacqulyn enjoys outdoor activities such as camping, fishing, hiking, and biking.
---
Harvester inspections
Harvesting of certified seed is subject to supervision of the local county Agricultural Commissioner, whose office must be notified prior to the harvest of certified seed (California Agricultural Code, Division 18, Chapter 2, California Seed Law, Article 7, Section 52421(b)). All harvesting equipment and any conveyances used to handle the certified seed must be cleaned and verified by the county Agricultural Commissioner prior to harvest or use. The cleaning of harvesting equipment is the joint responsibility of the applicant and/or grower.
---
Alfalfa Seed Stewardship Program
The AOSCA Alfalfa Seed Stewardship Program (ASSP) provides a mechanism whereby alfalfa seed producers doing business in markets that are sensitive to the presence of genetically engineered (GE) traits may request services beyond normal AOSCA seed certification. These fields are referred to as Adventitious Presence (AP) sensitive. The ASSP provides verification that seed produced in the program exceeded AOSCA standards in areas such as field history and isolation distance. The ASSP is intended to be utilized in addition to seed certification. It is not intended to be used as a replacement for seed certification. Seed successfully produced under the ASSP will be eligible for both certification and issuance of an internationally recognized AOSCA Identity Preserved (IP) certificate.

We anticipate providing IP tags and we strongly encourage using both the certification tag and the IP tag when labeling seed produced under the ASSP. Detailed information about the program criteria may be found on the CCIA web site. Click on the link "Identity Preserved" in the green menu on the left side of the page. The newly developed online Alfalfa Isolation Management Map is a partner with the ASSP to mark the locations of the fields in the program. See the article on this page for more information about the isolation maps.
---
Isolation map
The CCIA isolation maps have been improved substantially and continue to provide a useful production management tool to the seed industry. Seed is often grown in somewhat small regional production areas and it is desirable that seed producers work cooperatively and respect each other's need to produce genetically pure seed. The isolation maps are programmed to check for violations of isolation distances based on each specific crop. Producers wishing to plant fields that are potentially in conflict are notified by email and can contact each other to develop a solution.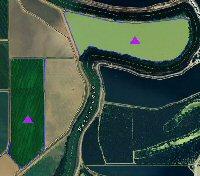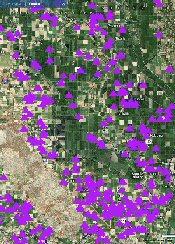 Currently, the CCIA offers 3 different maps. The Crop Isolation Map offers mapping for sunflower and vegetables. The Alfalfa Isolation Management Map is used in conjunction with the ASSP to mark AP sensitive fields and GE fields. A Demonstration Map is available to allow users to see how the maps work.
Crops are identified by different shapes. Shown are samples of the sunflower map; each triangle represents a field location.
For more information please go to the CCIA home page, select 'Pinning Maps'. Tutorials are available to help you understand the capabilities of the maps.
---
Historical note
THEN: In 1955 there were 1,498 growers producing 178,044 acres of certified seed including virtually every field crop grown in California. 'Ranger' alfalfa, as an example, rapidly expanded from 44,000 acres in 1954 to 88,000 acres in 1955. In 1957 the CCIA inspected 210,000 acres--an all time high for the state. That same year 66 million pounds of alfalfa was certified-­-an industry which accounts for over 4/5 of the certified alfalfa seed produced in the nation and more than 1/3 of the total alfalfa seed planted in the nation.
NOW: In 2010 the CCIA inspected 135,076 acres; 99% of the acreage is in six major crops; alfalfa was the largest crop with 37,800 acres and 21.1 million pounds certified. A total of almost 190 million pounds of seed was certified.
---
Seed Laboratory Recognition Program
The Seed Lab Recognition Program has been fully implemented. During the late fall and early winter Mary Voorhees completed all of the laboratory visits. The CCIA will now only accept seed laboratory Reports of Analysis from CCIA Recognized Laboratories. A list of recognized laboratories, contact information, and the services they can provide to our customers is available on our web page.
Reminder: When sending samples to a seed laboratory for testing please send ample amounts of seed.  The recommended amount of seed samples are listed on the Seed Sample Sizes Table at the CCIA website.
Also important...include with the sample the 'Certification Sample Form' from the CCIA web site so the lab will know that this sample is intended for California certification. Below is an example Sample Form printed from the web site which includes all the information a seed lab needs.
Please be sure to request all the proper tests.  The CCIA requires a purity, noxious weed exam, and germination test for each certified seed lot.  Say YES to the All States Noxious weed exam.  Be aware that when you request your tests, the Purity Test often means the purity and noxious weed exam combined.  However not always - some labs think of them as separate tests and may ask 'Would you like a noxious exam with that?'  Please be sure and say YES to a Noxious Weed Exam - an All-States Noxious weed exam!
Reminder: the CCIA does not accept merged Reports of Analysis when lots are initially submitted for certification. Purity and germination tests need to be conducted on the same test in order for the CCIA to certify the lot.
---
Pablo Guzman

Pablo Guzman received a B.S. in Agricultural Engineering from Universidad Nacional de Colombia. He worked for the International Center of Tropical Agriculture (CIAT) in Cali-Colombia as a plant pathologist in their bean program. Pablo moved to Brazil to obtain his M. Sc in Plant Pathology from the Sao Paulo University and worked as a sugarcane pathologist for COPERSUCAR in Brazil for two years. He returned to CIAT for 4 more years and later moved to the USA to pursue his Ph.D. degree in Plant Pathology at UC Davis. While working towards his Ph.D., he provided support to the CCIA bean certification program to test bean leaf samples by ELISA to determine the presence of necrotic and non-necrotic strains of BCMV. Pablo joined the CCIA in 1998 and became responsible for the Potato Seed Certification Program that was transferred from CDFA and the Disease inspected Certification Program offered to vegetable seed companies. Currently, he is also responsible for managing the applications for certified seed production of asparagus, clover, bermudagrass, safflower, sudangrass and miscellaneous crops.
Pablo has a daughter (Marta Helena) who works as a commercial pilot with Compass airline based in Minneapolis and a son (Pablo Andres) in college pursuing a degree in marine biology. He enjoys outdoor activities such as traveling and coaching youth soccer teams. He is responsible for a used soccer uniform donation program in Davis that collects uniforms each season and delivers them to kids in the USA and around the world.
---
Bags wanted
The CCIA has framed some cloth seed bags to decorate the Prato Room of the Parsons Seed Certification Center. We would like to augment our collection with bags from an array of seed marketers. If you are willing to donate a bag, please send it to us or contact one of the staff to pick it up when they are in your area.
---
Blend numbers
In the past few months the CCIA has implemented a new format for blend numbers that is consistent with the format of certification numbers. There are four types of blends:
In-Dirt - comingling of harvested seed of a single variety from fields that have been inspected and passed as a class of certified seed but were assigned different certification numbers.
Lot - made by blending different lots of the same variety.
Varietal - made by blending seed lots of different varieties of the same kind of seed and marketed as a "Named Varietal Blend" of certified seed.
Mixtures - a combination of seed lots from two or more kinds (species) of seed and marketed as a "Mixture of certified seed".
The new blend number includes the state (California), a letter to indicate the type of blend, and the number from the blend request form. Examples:
CA-D34698   In-Dirt blend
CA-V34712    Varietal blend
CA-L34854    Lot blend
CA-M34912    Mixture
Blend forms are available at the CCIA web site. These forms are MS Excel spreadsheets with formulas incorporated so when the weight of each lot is entered, the weighted averages are calculated. This completed form should be emailed to Nicole Hostert (ndhostert@ucdavis.edu) for verification. After approval, she will send back the approved blend form with the blend number.
For more information about blends please see the page 'Seed Lot Blends' at the CCIA web site.
---
Ag day at capitol
The CCIA shared a booth with the California Seed Association and the Seed Biotechnology Center at the annual California Agricultural Day at the Capitol. Over 35 organizations were represented to promote the importance of agriculture to our legislators. Several thousand attendees celebrated the day which included food samples and educational exhibits. We handed out small packets of basil seed provided by CSA. Larry R. Teuber, CCIA Executive Director, met with several legislators to inform them about seed certification.